SAAM Day and SAAM General Assembly
March 25, 2022 at the Swiss Museum of Transport Lucerne.
 

 
Because of the pandemic, the monthly meetings of SAAM could not take place physically since November 2021. All the more I was looking forward to the personal meetings and conversations again after almost half a year. As a native of Lucerne, I was particularly pleased with the choice of venue.  
As soon as I entered the hall, I noticed the many small boxes on the tables at the side of the room. I had often heard about "Lego Serious Play" and the concept behind it. I was now all the more curious to experience this form of thinking and problem-solving method for myself as a participant. Thanks to the professional moderation of Sandra Roth and Kristin Warnecke of the coaching agency "Savvista" and the guided preparation exercises, I was able to quickly put aside initial fears. It is amazing how quickly one succeeds in translating impulses and thoughts into the symbolism of Lego bricks and thus expressing them. I found the goal of using Lego bricks to design the elements for the creation of a SAAM roadmap for the next 2 years an innovative and, above all, very creative approach. The different teams designed their personal visions and presented them to each other in plenary. It was interesting to observe that many ideas are similar in essence and yet can be presented in so many different ways in the form of a Lego picture. Based on the impulses, the management team formulated the SAAM vision for mobility in Switzerland in 2035 just a few days later.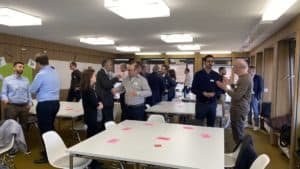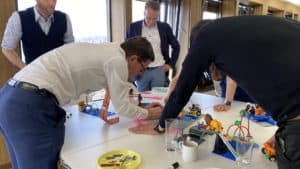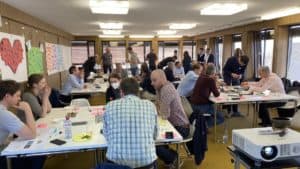 Following the workshop, Martin and Oliver guided us through the ordinary General Assembly of the SAAM association including the election of a new Board of Directors. The retrospective sometimes makes you realize how much could be achieved together in one year.  
The concluding aperitif outside the Brasserie of the Swiss Museum of Transport in beautiful spring weather and warm temperatures was a fitting end to a playful and perhaps therefore intensive and productive day.  
Thanks to Martin Neubauer and Oliver Nahon for the top organization of the event in a great atmosphere at this beautiful location.