Innovation and research are central to Switzerland as a business location. At the delegates' meeting of the FDP in January 2023, the politicians were able to gain an insight into SAAM's activities at the Dübendorf Innovation Park. SAAM was present with three showcases. The interest in pilot projects in various regions of Switzerland was great and the support for further pilot projects from the government representatives was palpable. 
Autonomous, on-demand shuttles as a supplement to existing public transport connections or to provide access to individual neighbourhoods? Can the shortage of skilled workers be avoided with autonomous logistics deliveries? The representatives of LOXO, Emotech and Swiss Transit Lab had a lively exchange with interested FDP delegates and answered many interesting questions. The discussions revealed how important innovative ideas are for Switzerland as a business location. At the same time, the politicians made it clear that new ideas must always create added value for society and the environment if they are to be successful in the long term. 
Concrete application examples are SAAM's recipe for success. At the event, SAAM demonstrated the high practical relevance of its projects and how the association is bringing the technology of autonomous mobility to Swiss roads. 
The first automated delivery vehicle from LOXO was shown. It was developed for the first and last mile, so that goods bought online can be delivered efficiently and reliably to the customer. More information about LOXO is available here: https://www.loxo.ch/en/#product.  
SAAM was also on site with the Swiss Transit Lab. Line 13″ from Schaffhausen impressed the audience with its Level 4 vehicle and dual-mode technology. More information about Swiss Transit Lab can be found here: https://www.swisstransitlab.ch/de/projekte/linie-13/ 
Embotech was the third in the group. The name stands for Embedded Optimisation Technologies. The delegates of the FDP had the opportunity to sit in the so-called EmboVan to learn more about the technology. More information about Embotech can be found here: https://www.embotech.com 
FDP president and former SAAM president, Thierry Burkhart, is convinced that automated driving is the future of mobility, as he tells SAAM in an interview. It is not a question of whether the technology will ever be part of the road scene in Switzerland, but when it will be. The current SAAM president and FDP member of the Council of States, Hans Wicki, personally tried out LOXO's automated delivery service at the stand and was thrilled. In an interview with SAAM, he explained that Switzerland has always been a pioneer in mobility and that SAAM is proving that this will continue to be the case.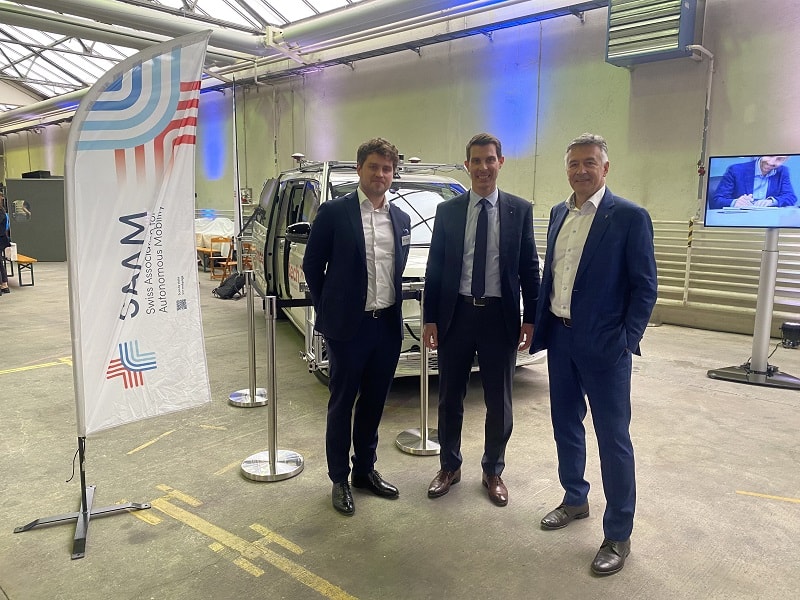 You can watch our first video on SAAM's successful participation in the FDP delegates' meeting. More interview video will be released soon.
Follow us on LinkedIn to stay
up-to-date with SAAM news!