Automated transport will change mobility as we know it. Switzerland is a pioneer country with pilot projects in public road transport. What developments are in store and why do we need the perspective and involvement of various actors? In this guest article, the Swiss Association for Autonomous Mobility (SAAM) shows how the pilot projects for automated driving in Switzerland are going and what exciting mobility ideas are being honed.
By Martin Neubauer and Oliver Nahon, Swiss Association for Autonomous Mobility (SAAM), written for the LITRA.
The development of automated driving is progressing worldwide. In Switzerland, too, automated vehicles have become increasingly visible to the public in recent years. Not least thanks to public road transport: since 2016, no fewer than 20 automated shuttles have been on the road in Switzerland (with safety drivers on board). In particular, the self-driving buses operated by PostBus until 2021 received a lot of attention and are likely to have shaped the image of automated vehicles for many people in Switzerland. Switzerland thus took on a pioneering role in Europe, or even worldwide, in the use of automated vehicles in public road transport.
What is automated driving?
Automated driving stands for the ability of a vehicle to drive and steer itself completely or partially independently. A distinction is made between five levels of automation. Level 1 refers to assisted driving, for example by lane departure warning, cruise control or automatic distance control. The subsequent levels refer to semi-automated (level 2), partially automated (level 3) and highly automated driving (level 4). In all of these stages, humans must take over certain tasks. Finally, level 5 is fully automated driving: Here, technology takes over all tasks. A driver in the car or by remote control is not necessary. A more detailed description of the automation levels can be found at the Federal Roads Office (FEDRO).
Why is automated driving important?
Automated driving enables more sustainable mobility and opens up opportunities for society. Demographic trends show that the population is getting older and older. With the possibilities of automated driving, older or physically impaired people gain simplified access to mobility and thus a better quality of life. But new, more cost-effective transport alternatives are also opening up in freight transport. Goods can be transported more efficiently and in a more environmentally friendly manner.
Effective and efficient mobility is always also an indicator of welfare and security in a country. Switzerland has had a well-functioning basic mobility service for decades. This can be usefully expanded in public road transport with automated journeys.
There is also a lot to be said for automated driving in terms of road safety. Depending on the level of automation, the number of accidents can be further reduced. Today, 90 percent of all accidents are due to human error. The challenge is to control the mixed traffic of conventional and automated vehicles without accidents. Technical systems must be prevented from failing or misjudging traffic situations. The development of reliable and robust technologies to increase road safety is therefore of immense importance. This is the only way to gain and sustain people's trust in automated driving.
A selection of ongoing projects in Swiss public road transport
PostBus has now regularly terminated the SmartShuttle project mentioned in the introduction. However, the company remains interested in automated transport: PostBus is therefore running a much-acclaimed pilot project with a luggage robot in Saas-Fee.
Other organisations from the public transport sector are also currently pursuing projects on automated driving: in 2018/2019, for example, the Swiss Transit Lab (STL) in Schaffhausen started a pilot operation with a self-driving bus, integrated into the public transport network of Verkehrsbetriebe Schaffhausen (vbsh). Since August 2022, the STL has also had a commercial minibus that has been converted into a vehicle with the ability to drive "highly automated" (automation level 4). With this, the STL plans to open an automated bus service in the city centre of Schaffhausen this year as part of a pilot project.
Meanwhile, the largest pilot project for automated driving in public transport in Switzerland is underway in the canton of Geneva: the transports publics genevois (tpg) operate a fleet of automatic shuttles that work on demand. Users can order the shuttles directly via their smartphone.
The projects mentioned here as well as other completed, ongoing and planned projects are documented on the SAAM project website.
State of affairs: Confidence is appropriate, more momentum would be desirable
Automated driving has arrived in Switzerland – also in public transport. This new type of mobility will continue to develop. Various players in Switzerland have recognised the importance of automated driving, which is also reflected in the fact that more than 30 organisations are now involved in SAAM, including Swiss transport, technology and public transport companies as well as research institutes.
If we want to further develop mobility in the interest of the users, it is essential not only to take the technology perspective. In Switzerland, automated driving is often viewed in isolation. This is different in Germany, where a broad and trend-setting discussion is taking place under the keyword of the "traffic turnaround", in the context of which automated driving is also being discussed. For the significance of automated driving, it is important and meaningful to consider the topic in a network with other major challenges. It is even more effective if companies from other sectors, e.g. from the retail trade, the energy industry, logistics or urban development, can be inspired by the topic and actively participate in the discussion.
It is very positive that SAAM's cooperation with the public sector is constructive. The authorities are showing interest in the various pilot projects. Confidence is therefore justified for the future of automated driving in Switzerland.
The willingness to innovate in the area of automated driving in Switzerland has tended to decline over the past two years as a result of the coronavirus pandemic and the associated economic uncertainties. However, the potential for automated driving remains high. A revision of the Road Traffic Act is currently being discussed in parliament, with the aim of legally regulating the experimental use of automated vehicles in Switzerland and thus also facilitating it to a certain extent (Federal Council business 21.080 in parliament). If Switzerland wants to keep up with European and global developments, it needs not only such foundations but also the courage of the players in the transport industry to analyse the topic of automated transport and to position themselves in it.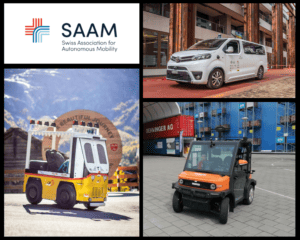 ---
Notes on the article
The content of the guest article reflects the views of the authors. The article was written in the run-up to Automaticar. The fifth edition of this event, also known as the Swiss Agora for Automated Mobility, will take place as part of the Mobilitäsarena on 20 and 21 September 2022 in Bern. The Mobility Arena is an important event in Switzerland for exchanging views on the progress of tomorrow's mobility with stakeholders from politics, business and science. SAAM and LITRA will be represented at the event.
Cover photo of the article: conventional minibus converted into an automated vehicle (Swiss Transit Lab, Schaffhausen).